The 17 Super Dumbass Blogging Blunders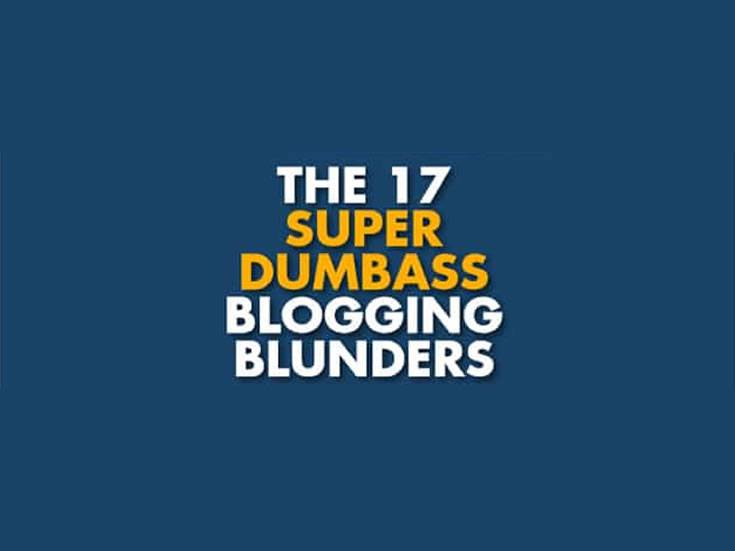 by Blog Beast
This report is about more than just the 17 Blogging Blunders that most people make when it comes to blogging. And it's about more than just making money blogging. I'll cover that too, because there are millions to be made through blogging, if you do it right…
The thing is, no matter what business you're in, money is simply the byproduct of right-thinking combined with right-action. After today, your 'thinking' and, if you choose, your 'action' will change completely. I promise you that.
But before we get going, it's super-important to understand that this report is REALLY about one thing:
NOT…
By that, I mean how 'NOT' to think and what 'NOT' to do if you want to really succeed online. And before I make my next statement, let me tell you – it may be a bit hard for you to accept when you first hear it…
But you can't truly make progress or succeed unless you're open to accepting that I'm about to tell you. So, unless you can open your mind to something that might seem a bit far fetched at first, and trust what I'm about to tell you, you might as well STOP READING THIS REPORT RIGHT NOW.
NOT EVERYONE IS READY FOR THE CONCEPT I'M ABOUT TO SHARE. COME BACK AND READ IT WHEN YOU ARE READY.
The thing is, whether you know it or not, you've been a VICTIM. A victim of a dubious, nearly undetectable disease that has you and so many other people headed in the opposite direction of success online…
Tell me this: What did you picture life being like when you first got the idea of trying to create income online? Did you see yourself hunched over a computer until the wee hours of the morning, night after night, ultimately spending LESS time, rather than MORE time with the people you love?
Click on the link below to start downloading this free ebook:-
The 17 Super Dumbass Blogging Blunders – 44 pages, 1.79 MB (PDF)
Items posted here are free at the time of posting. If you find they are no longer free, kindly notify us immediately through our contact form.